Grab my 31-Day Recovery Writing Challenge.
Do you want to stop drinking?
Do you want to write every day?
Do you want to celebrate your sobriety in writing?
Do you have an addiction story you want to write?
Then this 31-day online retreat is for you!
I first offered this as part of a Sober October challenge, but you can now access the 31-days independently to use any time of the year.
Are you in a toxic relationship with alcohol?
I struggled to quit drinking for years. I joked that I was in a bad romance with wine. I suffered hangovers, mistakes, terrible skin, and brain fog. Every day, I felt unhealthy and exhausted.
Then my actual health started to decline. At 30, I got degenerative disc disease, common for women who drink too much alcohol, and early-stage periodontal disease, another alcohol-related ailment. When my fingertips started to go numb from nerve damage caused by alcohol abuse, I knew it was time to get help and quit drinking.
When I accepted that my drinking days were over (you can listen to my story here) I made the decision to learn everything I could about myself and about alcohol. I wanted to know why I had this problem. I read many books, watched documentaries about alcohol, and listened to many recovery podcasts. Then I joined a supportive, sober community- @recoveryelevator.
With the help of my support community, I read and wrote my way into sobriety.
Sobriety transformed my personal and professional life.
Before I quit drinking, I had a day job I hated. At night, I would drink and write, and my writing was a mess. I never edited, and I never sent my writing out into the world.
Only since getting sober have I been able to have any success as a writer. I also quit the job I hated, started freelancing, and opened an Airbnb to give myself more time for writing. I picked up the habit of journaling every morning.
I replaced my evening drinking with reading, and I replaced my morning hangovers with happy diary entries.
Now, I have a successful property rental business, two books out, another on the way, and a literary agent trying to sell a fourth book.
All is possible in sobriety.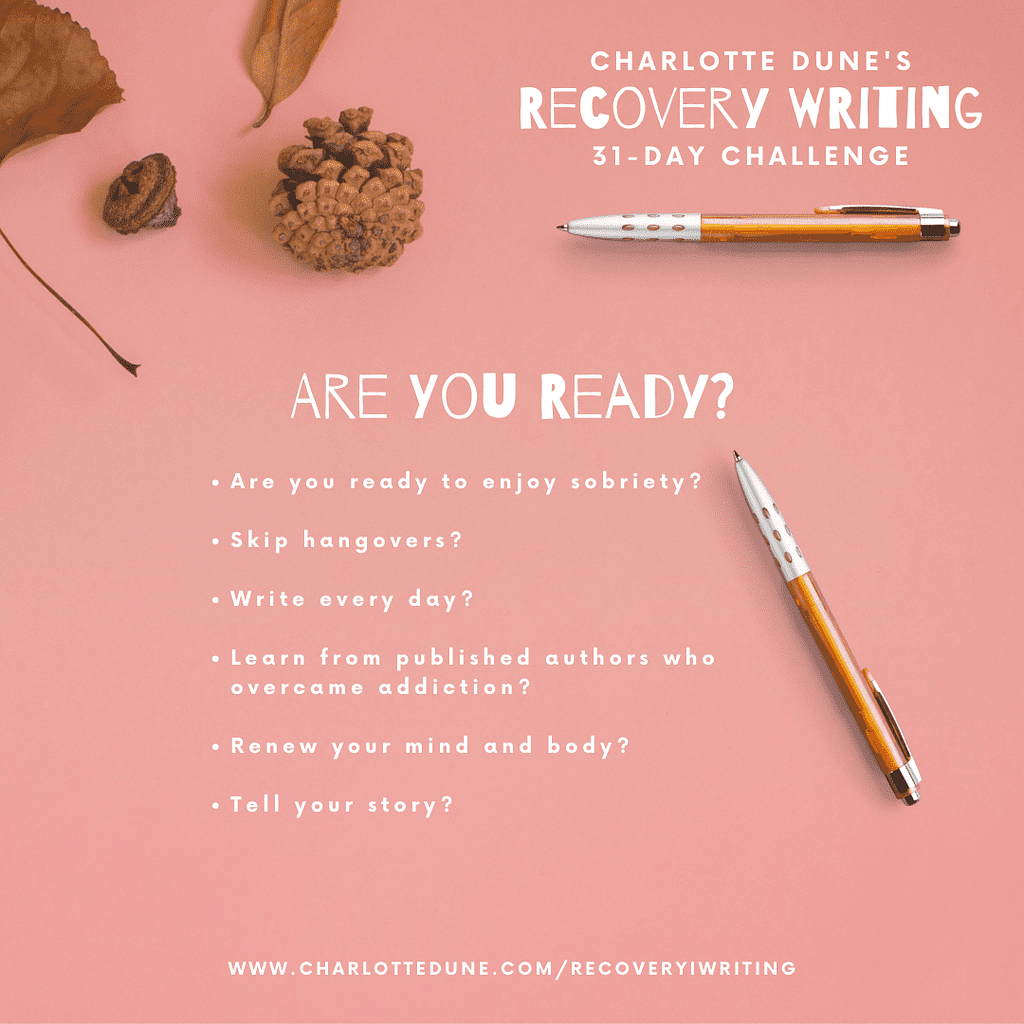 Why Write Sober?
Here are some stats from the National Institute on Alcohol Abuse and Alcohol on how problem drinking is hurting us.
26% of Americans reported being worried about their binge drinking this year.
Alcohol kills approx 3.3 million people every year.
Drinking alcohol dramatically increases your risk of cancers of the mouth, esophagus, pharynx, larynx, liver, and breast.
Over 80,000 Americans will develop liver disease this year from drinking. The proportion of alcohol-related cirrhosis is highest (76.5 percent) among deaths of persons ages 25–34.
Are you a parent who drinks almost every night? I was. And it breaks my heart to say that, but if I can get out of the cycle, so can you.
Everyone who drinks can benefit from cutting back on drinks.
Not all of us are full-blown alcoholics. Many of us are gray-area drinkers — we are drinking beyond recommended health amounts, but are still holding down jobs and families. Still, gray-area drinking is a slippery slope, and often its just the start of a journey to bad health.
Maybe your drinking is stress-related. Maybe you are drinking to relieve the suffering caused by grief or a past trauma. Maybe you are stuck in a bad relationship, a crappy job, or a mental health issue. Whatever the reason is, I can promise you, alcohol won't solve the problem. You will have a much better chance of working out the issue while sober. Writing helps too.
Healthy living and daily writing can help you with almost any issue and this is what Sober October is all about.
My first year of sobriety, reading and writing every day really helped me stay sober.
Now I'm offering that guided experience for you.
I've paired the best essays on sobriety and addiction, with daily writing prompts, live events, guest recovery speakers, and restorative yoga to heal the body as you heal your mind.
If you want to write every day,
If you want to quit drinking or maintain sobriety,
If you have an addiction story you want to write—
Then this 31-day online retreat is for you! ⁠⠀
What are the goals of the Recovery Writing Challenge?
⁠Stay sober for 31-Days⠀
Develop a writing habit and write every day for 31-Days ⁠⠀
Finder inner calm and clarity.
What do you get?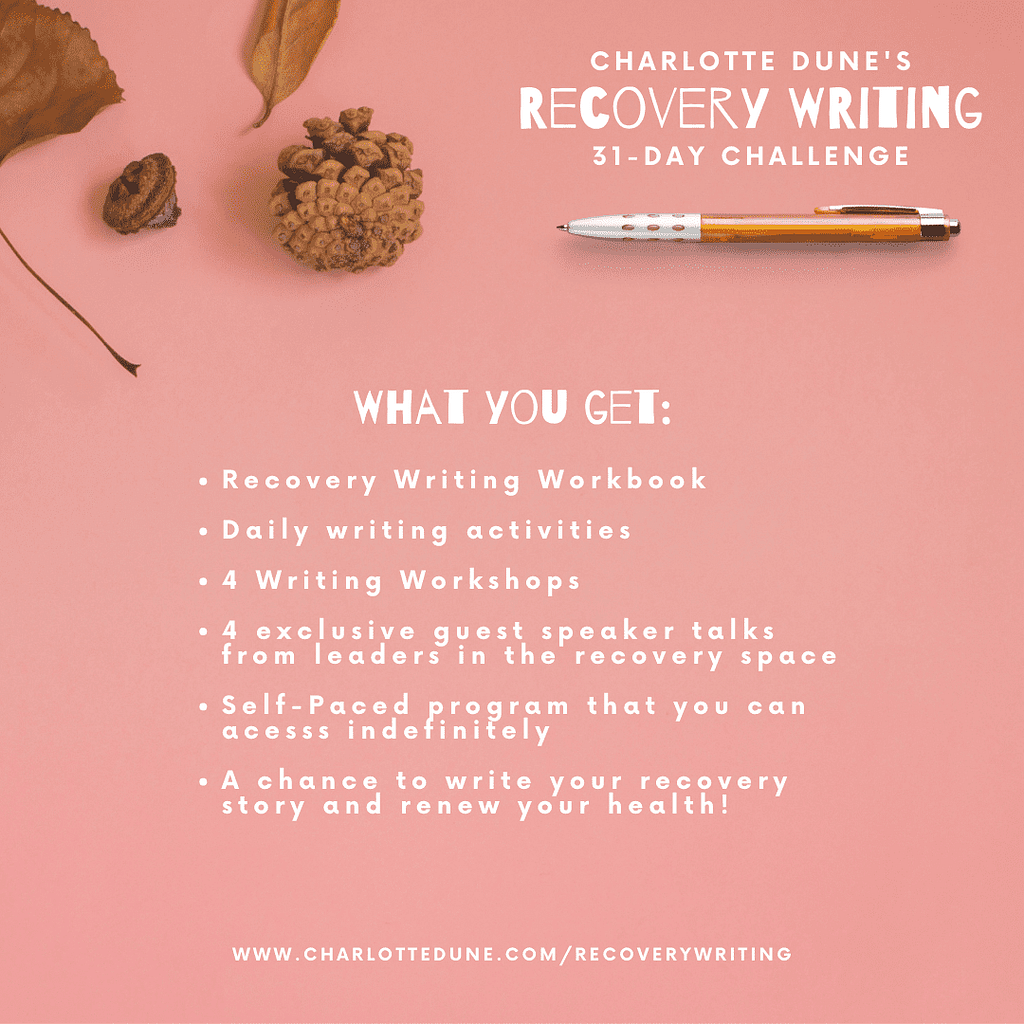 1. Four writing workshops on writing for recovery. ⁠⠀
⁠⠀
2. Four guest speaker sessions. ⁠⠀
⁠⠀
3. Access to my online Writer's Support Group, every Thursday at 8pm EST on Zoom which includes many published authors. ⁠⠀
⁠⠀
4. A pdf guide and workbook with recovery writing prompts. ⁠⠀
⁠⠀
5. Optional daily writing assignments⁠⠀
⁠⠀
6. A chance to share your recovery story, or just write it down for yourself. ⁠⠀
⁠⠀
7. A selection of excellent personal essays from published authors on addiction. ⁠⠀
⁠⠀
8. A sheet to track writing progress and sobriety. ⁠⠀
⁠⠀
Not ready to commit to the full retreat?
Grab my free Recovery Writing 31-Day Workbook!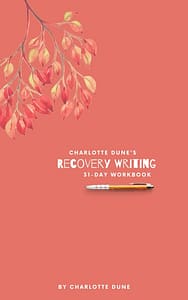 Want to see the detailed live retreat schedule?
Find the complete challenge schedule here.
Happy Sober Writing! And see you soon!